The SD Motion Trike Kit in association with Mountain Trike
21st March 2022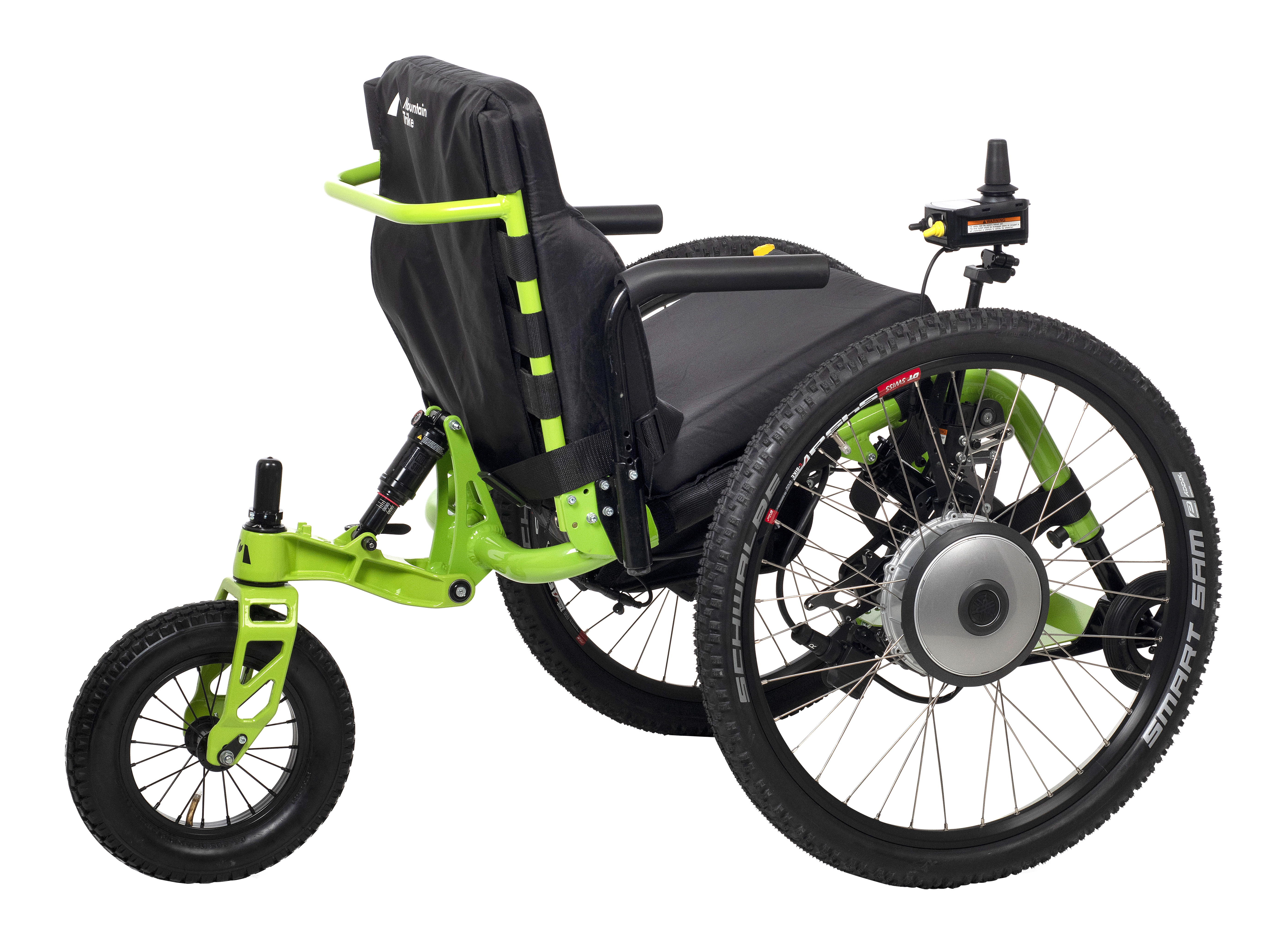 COMING SOON!
We are excited to announce our collaboration with Steering Developments (SD) - a leading vehicle adaptation and wheelchair conversion specialists to help create an adaptation for our all terrain wheelchair model - the SD Motion Trike Kit.
This unique wheelchair will be a fully powered joystick all terrain wheelchair built using the robust Mountain Trike frame and the Steering Developments powered wheels system.
The combination of the MT frame and SD Motion Drive will give people the freedom and independence to travel off-road and go further if they are not able to self propel a manual chair.
Using the same components to those found on the Mountain Trike means there is no compromise to the terrains the adapted joystick driven Mountain Trike will be able to travel over - uneven ground, gravel, grass, mud, sand, snow. And with the SD Motion system it means that the rider can power on with confidence using the simple and easy to use joystick.
Here is a first look at this unique and new design, which shows the Mountain Trike adapted with the SD Motion Drive kit: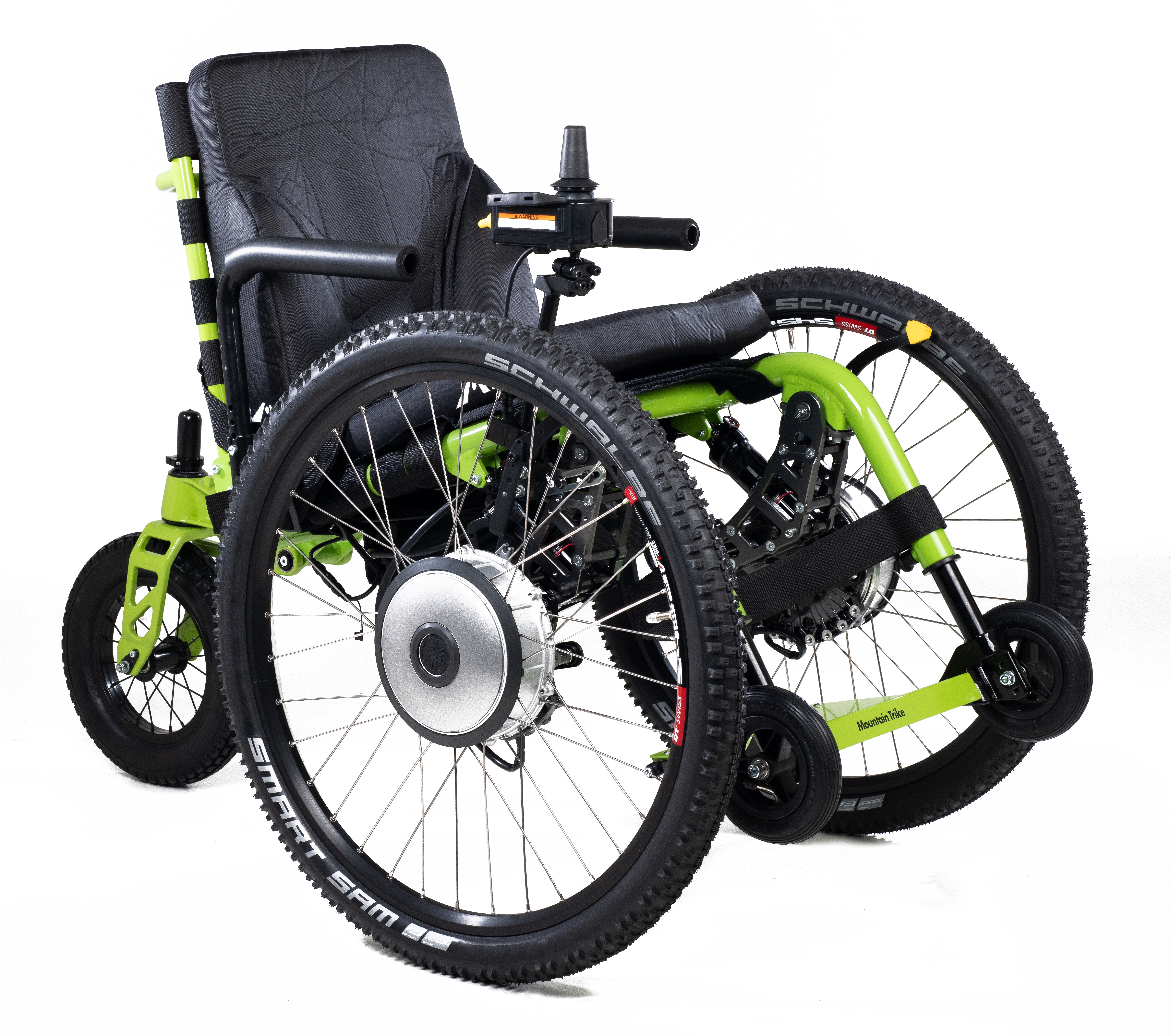 Brief Technical Specification:
Comes with Li-ion battery as standard with option of Ni-Mh battery
Easy to operate, 5-speed Joystick Controller
Highly efficient brushless motors with built-in braking function
Range upto 25km / 15.5 miles (with Li-ion battery)
Range upto 13km / 8 miles (with Ni-Mh battery)
Weight 33.6kg
Quick release wheels for ease of transporting
Robust aluminium Mountain Trike frame
Air suspension providing a smooth & comfortable ride
Higher or lower seat backrest
Frame and wheel hubs available in any colour
Additional seating support for comfort and stability
This is very much a first look and we are working with Steering Developments to gauge interest and continue to build our all important user feedback.

The SD Motion Trike kit is an adaptation that can be fitted to any of our all terrain wheelchair products.
Please email lucy@mountaintrike.co.uk if you'd like to be added to our enquiry list for the SD Motion Trike kit.
Once we are all happy and the kit and frame are ready to go into production all sales will be handled through Steering Developments.
Mountain Trike are in the process of going through the certification documentation (which, yep, you guessed it takes a long time and involves an enormous amount of paperwork), but our friends at Steering Developments already have the certification in place to adapt the Trike by adding the power system, so rather than delay getting the product to market, Steering Developments will be handling the ordering and the sales process.
As ever we aim to make our various Mountain Trike products modular to suit our customer's changing needs and it is the aim that the SD Motion Drive will be back-fittable to existing Trikes. Any Trikes built prior to August 2019 (when we made various improvements to the chassis for our eTrike) may need more modifications but we can advise on the merit of this Vs. buying a new unit.
Please don't hesitate to get in touch if you'd like further information about the SD Motion Trike kit and keep an eye out for news as we finalise the development of this new and exciting adaptation.
---
---
---