Jimmy Goddard, UK, Mountain Trike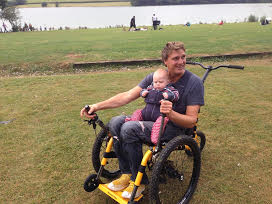 We have just hired one of your Trikes for 5 days. We are very sad to be sending it back as we have had the most incredible five days of fun with it!
Words from Amelia, Jimmy's wife...
It is an incredible piece of kit! For years Jimmy and I have wanted to find a way that we can walk off the roads together and we hoped that by the time we have a family we would have found a way to do this! Sharing my regular dog walks with Jimmy over the last few days has been amazing! It just means so much! He hasn't been in the woods like that since his accident! It has opened up so many doors and I can't wait to get our own and to go on so many more adventures!
Thanks SO much!