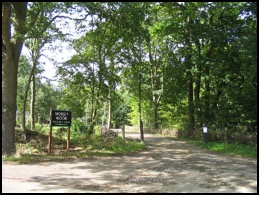 Essex - Norsey Wood Society
There are two way marked trails in the Wood: the Easy Access Trail and the Norsey Trail. The Easy Access Trail has been specially designed for those who require, or prefer, a smoother surface and gentler slopes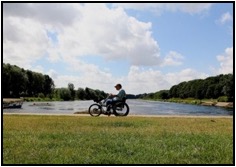 Cambridgeshire - Thorpe Meadows
Postcode: PE3 6GA
Thorpe Meadows is only a short walk or cycle ride from the Peterborough city centre and from Ferry Meadows Country Park.
As well as being home to the Sculpture Park and a purpose built rowing lake, Thorpe Meadows is a great place to walk the dog, cycle, jog or just to relax.
The paths around the rowing lake are hard surfaced, flat and suitable for push chairs and wheelchairs.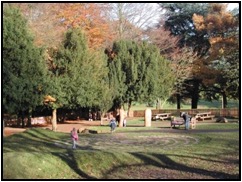 West Midlands - Warley Wood Park and Golf Course
Postcode: B67 5ED
There are a number of solidly surfaced paths which are suitable for buggies and wheelchairs. These run from entrance gate to entrance gate, so you can cross the park easily. There are also additional paths which are surfaced with semi loose material which would be suitable for most buggies and wheelchairs but may be harder to traverse. The site is formed by two sides of a valley and some gradients are steep.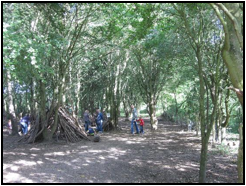 Warwickshire - Ryton Pools Country Park
Postcode: B76 0DY
The 100 acres of Ryton Pools Country Park are just waiting to be explored. The many different habitats are home to a wide range of birds and other wildlife. The excellent surfaced paths enable easy walking around the site, and provide access to adjoining ancient woodland. Come and have a picnic in the peace and quiet of the Park, or enjoy refreshments at the Visitor Centre. We have a walks and events programme offering activities throughout the year to suit all age groups and interests.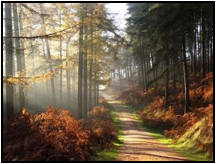 Staffordshire - Cannock Chase
Postcode: WS12 4PW
Birches Valley Forest Centre is an excellent starting point for an exhilarating day out on Cannock Chase. From the midlands best bike trails and woodland walks to adventure play area.
The Visitor Centre and Café at Marquis Drive is open 7 days a week and is the starting point for numerous self-guided walking and family cycling trails, including routes for people with disabilities.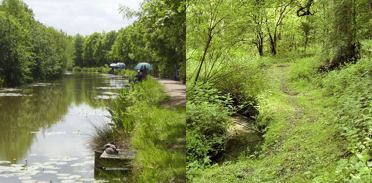 Nottinghamshire - Cotgrave County Park
The park is a great place to get away from it all in a relaxed and open green setting. The site includes woodland, wetland, lakes and informal grassland, and part of Grantham canal runs through the park.
Most paths are stone surfaced and suitable for walkers, wheelchairs, prams and pushchairs, but please be aware that some of the lower lying paths may get wet and muddy during spells of wet weather.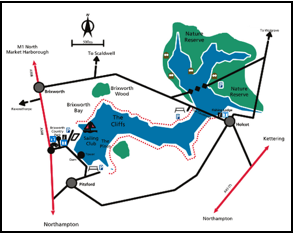 Northamptonshire - Pitsford Water Park
NN6 9DG
Pitsford Water and Brixworth Country Park offer circular, well-marked, hard-surfaced trails through woodlands and meadows.
It boasts an 'access for all' development at nearby Brixworth Country Park, with a seven-mile waterside track, suitable for people with disabilities.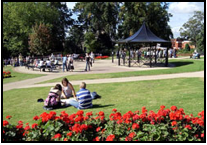 Leicestershire - Argents Mead
This park is in the centre of Hinckley town and is easily accessed off Church Walk and the car park.
In 2006, major improvements took place which included the installation of a bandstand that will be available to host a wide variety of local and regional music performances. Events take place in the Mead throughout the summer.
Derbyshire & Peak District - Williamthorpe Local Nature Reserve (LNR)
Ordnance Survey Grid Reference (SK431671)
Come and visit one of our newest local nature reserves, Williamthorpe is a great place for bird watching, wildflowers and generally enjoying the countryside. The ponds and reed beds are a wildlife haven nestling in maturing woodland and hidden from the surrounding bustle of industry.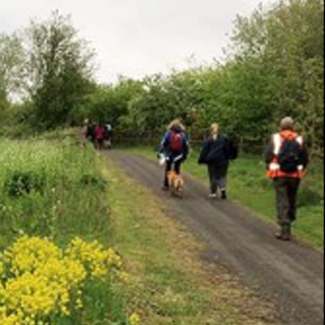 Surrey - Black Water Path
Postcode: GU11 2PS
The path surface varies from unmade single track to wide surfaced - 'multi-user' sections that are suitable for wheelchairs, pushchairs and buggies and bicycles. The wide section runs from Tices Meadow (Farnham Quarry) north up to Frimley Business Park. The path is mainly flat, which makes it ideal for those with young families or, in the multi-user sections, people with mobility difficulties. Obviously, the unsurfaced sections represent more of a challenge and are subject to change along with the weather conditions. There is a section at Holly bush Lakes that is now not accessible to bicycles and is unsuitable for wheelchairs.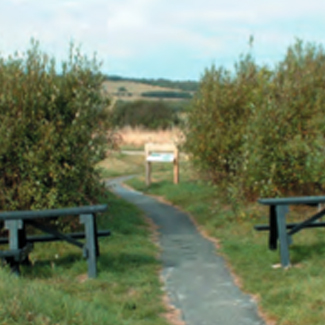 East Sussex - Devil's Dyke Trail
From the trail you can enjoy fine views of down land farmland and sea. The Dyke Access Trail is a 2 km wheelchair-friendly, circular route, free of any steps or slopes and accessible for everyone. There are resting places every few hundred metres. The firm surface extends beyond this circular route to Devil's Dyke, Hangleton and Red Hill car park.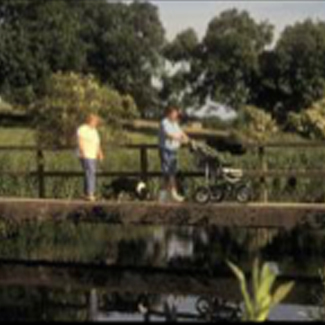 Chesham Stile Free Walk
Grid ref: SP964007
Distance: 2 miles
This circular route takes you from the edge of Chesham along fine woodland paths through Great Bois Wood and back through fields. It is an easy-going walk with some gentle slopes. The path through the Wood can be muddy after rain.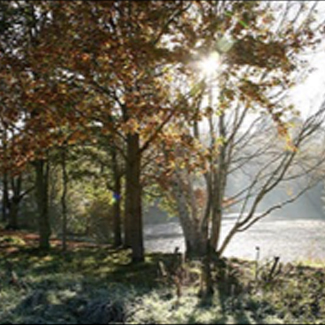 Berkshire - Pope's Meadow
Postcode: RG42 4AY
Intersected by Bracknell Forest Ramblers route, which enters off St Mark's Road and way marks guide walkers to an exit in the north-west corner has a play area for toddlers, a sport and kick about area (available for junior clubs to hire), a permanent orienteering course, cycle parking and an interpretation board detailing site information and events has a surfaced path providing good access from the car park to the pond, where a picnic bench is positioned to enhance enjoyment of the surroundings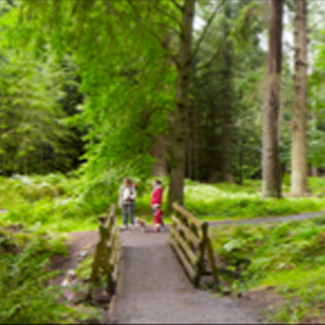 Somerset - Dunster Estate Forest
Postcode: TA24 6PL
Tall Trees Trail
Discover the tallest tree in England and ride amongst giants.
At 60m (197ft) the giant Douglas-firs rise dramatically above their surroundings. Learn more about the surrounding forest with our interactive trail experience. It's a great trail for a short stroll, or the ideal way to relax and unwind for an afternoon enjoying the spectacular scenery. It's perfect for buggies and wheelchairs too.
Blue badge holders can start at our purpose built car park at the entrance of the trail. We recommend that wheelchair users park here. You can also start at Nutcombe Bottom Car Park.
Forest of Dean - Mallards Pike Path
Length of trail: 0.5 miles
OS Grid ref: SO 637095
The path around the lake has a surface suitable for wheelchairs and pushchairs, it is not a way marked route but is easy to follow. There are several benches where you can rest a while and enjoy the fabulous views or watch the ducks. You may even see some entertaining watersports as the lake can be pre-booked by tutor-led groups.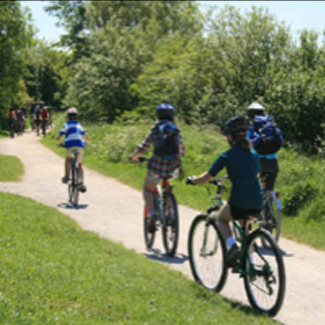 Forest of Dean - Pedal a bike away
Cannop Valley, Gloucestershire
GL16 7EH
A wide range of bicycles are available to suit everyone, adult trail bikes, tandems, children's bikes, carriers, trailer, trailer bikes, power assisted bikes and offer hire of a Mountain Trike The Forest of Dean trails provide all year round great days out for family and friends. Collect trail supplies before you ride and why not finish the day with some refreshment in the friendly cafe.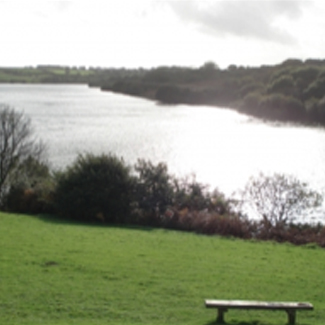 Dorset - Argal Reservoir
Argal, near Penryn, Cornwall
Map ref: LR204 762328
Nestling in a valley close to Penryn, Argal offers a great opportunity for a peaceful day in the countryside. Surrounded by sloping fields it is overlooked by the picturesque Mabe Church. The lake is noted for its wildlife and beautiful walks, there is a circular route of about two miles which passes through woods and meadows.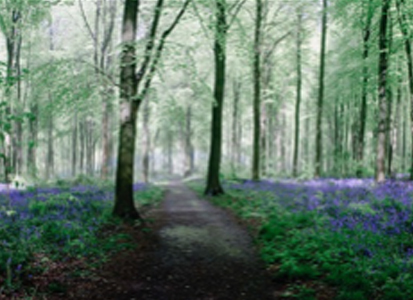 West Woods, Wiltshire
OS Grid ref: SU163667 Postcode: SN8
West Woods consists almost entirely of beech trees and becomes very popular in late spring due to the fantastic displays of bluebells which carpet the forest floor.
There is a small car park with a few picnic tables set back in the woods. The woods are renowned for their bluebells and can be accessed via a network of trails including an easy access trail.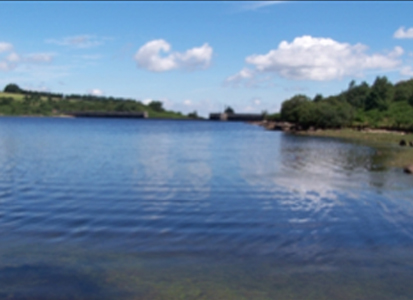 Devon - Fernworthy
Fernworthy near Chagford, Devon
Map ref: LR191 665840
There are a number of way-marked walks around the lake and forest including a circular waterside walk of about three miles and a trail designated for less able visitors with seats and information en-route.
A number of picnic tables are sited near the main car park overlooking the water and toilets are located in the car park.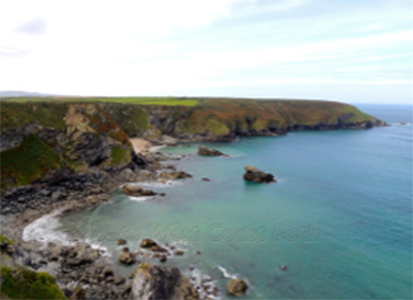 Cornwall - North Cliffs
Start: Reskajeague Downs Car Park, South of Portreath
Finish: Derrick Cove Car Park
Length: 0.5 miles (0.8 km)
This easily accessed, short route gives excellent views of Cornwall's rugged north coast. The National Trust have recently upgraded this path. It is short (about ½ mile) and it is generally flat with a good non-metalled surface. Width should be adequate for all wheel chairs and mobility scooters