Richard Brooks, UK, Mountain Trike customer eTrike feedback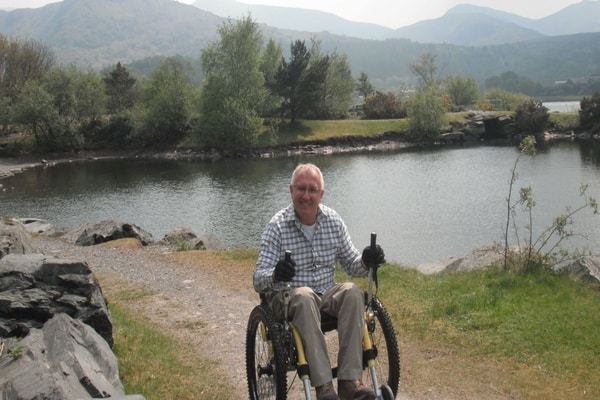 Richard Brooks from the UK has been a Mountain Trike customer since year dot and is a huge fan of our products. Richard gets out and about most weeks using his lever drive Mountain Trike.
Knowing what a huge advocate Richard is of our products we invited Richard to test ride our eTrike - electric power assist Mountain Trike to get his feedback.
Take a look at this short video which includes the positive feedback from Richard:
For further information about our eTrike visit the product page here.
Update: not long after test riding the eTrike, Richard decided to order the eKit for his Mountain Trike - the eKit can be easily fitted to the Mountain Trike and offers flexible riding - power on when you need a little bit of powered assistance and power off if you want to self propel using the levers!

Here is Richard at MT HQ not long after coming down to help fit the eKit to his Mountain Trike.
Richard's Mountain Trike was the second production Trike built back in 2011 - still going strong and with the eKit now fitted they'll be plenty of extra miles clocked up!

Visit the eKit product page on the website, here.