Kaiden Richardson, UK, eTrike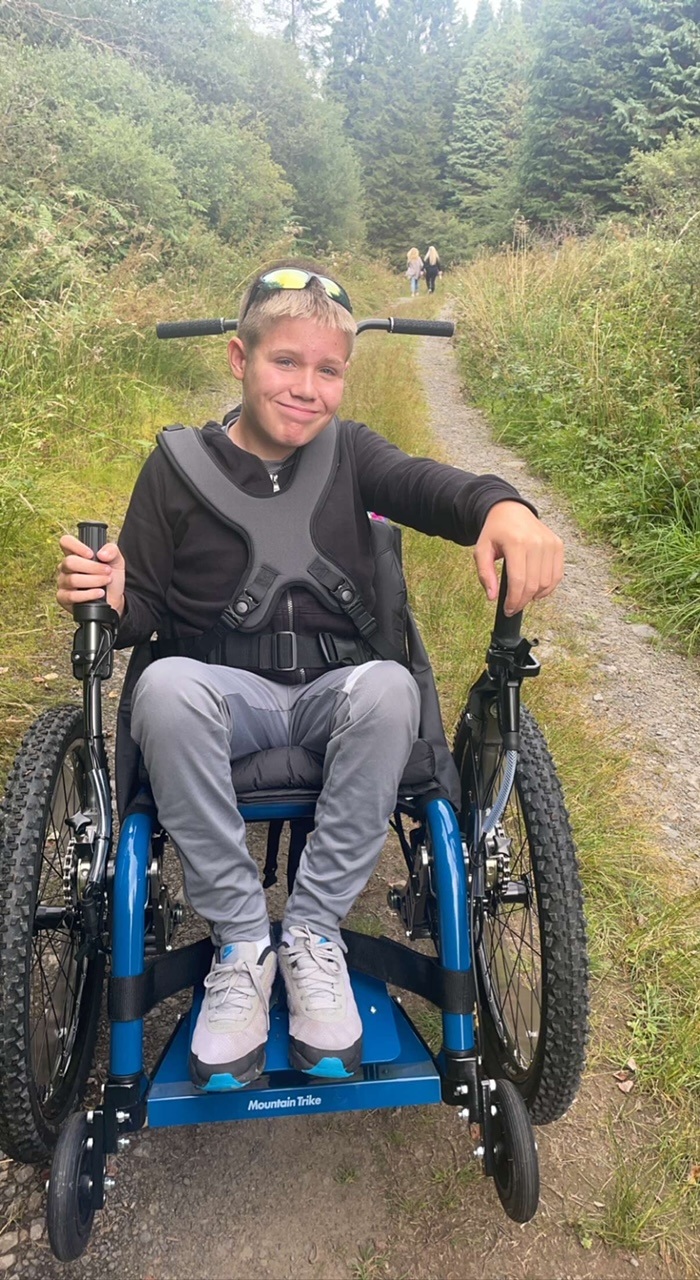 Kaiden is loving his eTrike and it's really given him his independence back. He is preferring to use his eTrike daily over his every day chair. He has taken to it so well and he is really enjoying the opportunities it is providing for him.
Kaiden was born with spina bifida and hydrocephalus in 2009, from the age of 3 Kaiden began to walk independently for short distances and used a wheelchair for longer outings. Kaiden has always enjoyed exploring the outdoor world, with regular camping trips, field walks and getting into lakes etc with his fishing nets. Unfortunately last year Kaiden's mobility stopped.
After lockdown we went to a local area with Kaiden which had various terrains, he was in his everyday chair. We had to carry him over some of the terrain or hold him until we got the chair over some of the terrain. The outing highlighted that as Kaiden is getting older his every day isn't suitable for exploring outdoors. I came home that night and did some research into different types of chairs because I realised it wasn't fair on Kaiden not able to explore these outings independently. I found the Mountain eTrike and read into it and it definitely seemed to be the best possible option for Kaiden to fulfil his enjoyments.
With the high cost of the eTrike, I knew it would be difficult to purchase independently. We live in a small town and everyone knows Kaiden well as he likes to stop and talk to everyone he sees I decided to set up a fundraising page. So many people donated and so many people went out their way to run raffles etc to raise money. We had local business running raffles as well as people taking time out their busy home life to make prizes or organise raffles. We also had the local youth group plan a virtual music on the prom for Kaiden as well people walking in the month of April for him. We can't thank everyone enough if it wasn't for them Kaiden wouldn't have his eTrike today.
We have recently returned to the local area which gave me the idea to research into opportunities to allow Kaiden to carry on the activities he enjoys. Kaiden had a fantastic day and was able to be independent throughout the whole experience with his eTrike. He didn't need to come in out of his chair to get over different terrain he was able to do it all on his eTrike. This was fantastic for Kaiden to realise he can carry on doing what he loves best and it was a great day for the whole family to see Kaiden happy doing what he loves best and being about to carry out his adventures independently. His eTrike took him straight down to the lake side where he was able to get out and explore the lake. We can't wait to see what adventures are next in his eTrike.