Wheelchair dog walking lead set
2nd September 2015
Equipment & Clothing General News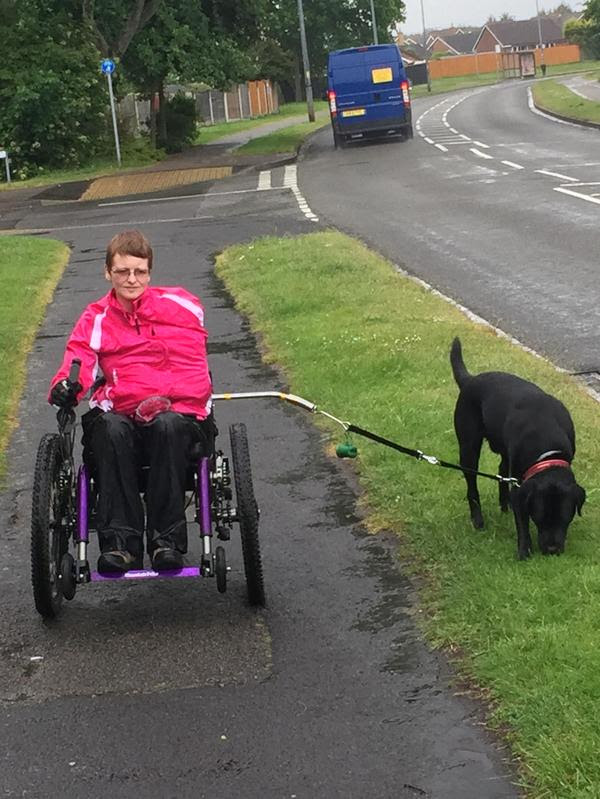 We have many customers who love nothing better than to explore the great outdoors with their four legged friend. For various reasons having your dog on a lead can be tricky when out and about on your Mountain Trike - trying to negotiate various terrains and obstacles whilst riding and trying to hold onto your dog lead can be quite a challenge.
One customer has found a great wheelchair friendly dog walking kit that comes highly recommended - the 'Trixie Deluxe Dog Walking Wheelchair Lead Set' which can be purchased via Amazon here. She says that this set is great and the spring makes a difference if you have a larger dog.
Pictured above is Mountain Trike owner, Amanda and her trusty friend 'Jupes' who enjoying heading out on adventures together.
Update:
We have also been contacted by a customer from Canada who recommends another dog walking kit, that he says is easy to use and makes walking his dog a very pleasant experience, check it out here.
Obviously, there are lots of other kits available - just search, dog lead attachment, dog lead leash for bikes etc and they'll be many options to choose from.
Happy walkies for your furry friend!
---
---
---