Top tips on maintaining your all-terrain wheelchair in winter
5th January 2022
Muddy winter walks over rough and frozen ground can put additional strain on your all-terrain wheelchair. Proper wheelchair maintenance is key to ensuring the mobility, performance and safety of your equipment.
That's why we've put together some tips, as well as included some top tips from our customers on maintaining your wheelchair through the colder and wetter months.
Tip 1: Check your wheelchair regularly
How you go about maintaining your wheelchair and how often depends on the model and the type of use it is subjected to.
Certain features will be subjected to greater wear and tear and so need to be checked more regularly. For example, if you regularly ramble, it's a good idea to ensure your tyres and brakes are in working order more often.
For those who ride across more extreme terrain, which might put more strain on the frame, it is worth looking at the nuts and bolts more regularly to check they haven't become loose.
As a general rule, you should take a look at the tyre pressure every month, as well as the condition of the brakes, the backrest and all moving parts.
Every three to four months, we'd advise taking a look at the quick-release mechanism, which allows you to remove the tyres more easily and without the use of tools; the anti-tip system (if fitted), which stops the wheelchair from tipping backward; the footrest and upholstery, as well as cleaning the chair frame.
Correctly maintaining a wheelchair should also entail an annual check by an authorised supplier familiar with your wheelchair and who knows how to carry out repairs on it. Some wheelchairs can have very high-end components, which will need extra care.
Tip 2: Clean your all-terrain wheelchair
Wherever you are in the world, at some point, there will be mud, so it is important to clean the parts of your wheelchair that are susceptible to getting clogged up with mud and grass.
Danila Carroll told Mountain Trike about Mud Daddy portable washer, which she uses to clean the wheels of her husband's Mountain Trike. It works really well and as it is portable it means Danila can clean the wheels before putting the chair back in the car.
Aside from dirty walks, you should wash down your wheelchair following a trip to the beach – salt water and sand can be highly corrosive, so if you take it into the water or along the sand, be sure to wash it off later.
Mountain Trike products have a drive-train – using the lever drive engages the chain to power the wheelchair forward. We recommend giving the chain a good clean and de-grease every few months or as conditions demand to keep it running smoothly and to prolong the life of parts.
Fenwick's foaming degreaser spray (though others are available!) – is excellent for cleaning out grit and grime from the chain links. A scrub with an old toothbrush will finish the job.
Some light spray lube or wet weather chain lube is all that is needed to protect the chain (being careful to avoid getting lube on the disc brakes of course!). A good dose of spray lube on the steering cables will also help protect them in wet conditions and keep the mud at bay.
After muddy rides, Caroline Beeson, who has an eTrike all-terrain wheelchair, will hose her eTrike off to remove the worse of the mud. She was recommended Muc-off cleaning products from her local bike shop.
She also finds that a chain cleaning lubricant is great and provides a durable protective coating that will guard her chain against corrosion, in all weather conditions.
Always check your wheelchair maintenance and user manual. This will have specific points that cover each of these elements so that you can check their correct operation.
Tip 3: Use a bike repair shop
Our Mountain Trike wheelchairs use very similar components to those found on a mountain bike. The core serviceable parts of a Mountain Trike – the hydraulic brakes, air suspension, tyres etc – are similar to those found on mountain bikes.
We, therefore, recommend that you take your Mountain Trike to a local bike shop once a year. They should be able to carry out a service in the same way they do on their customer bikes.
Mountain Trike owner, Guy Harris, has his Mountain Trike serviced by his local bike shop in the New Forest. Guy says, "I am delighted with my local independent bike shop. The staff are proactive and have a can-do attitude.
As a wheelchair user, I have a local business who can look after my Mountain Trike and Hase Kettwiesels, both of which are slightly unusual specialist items."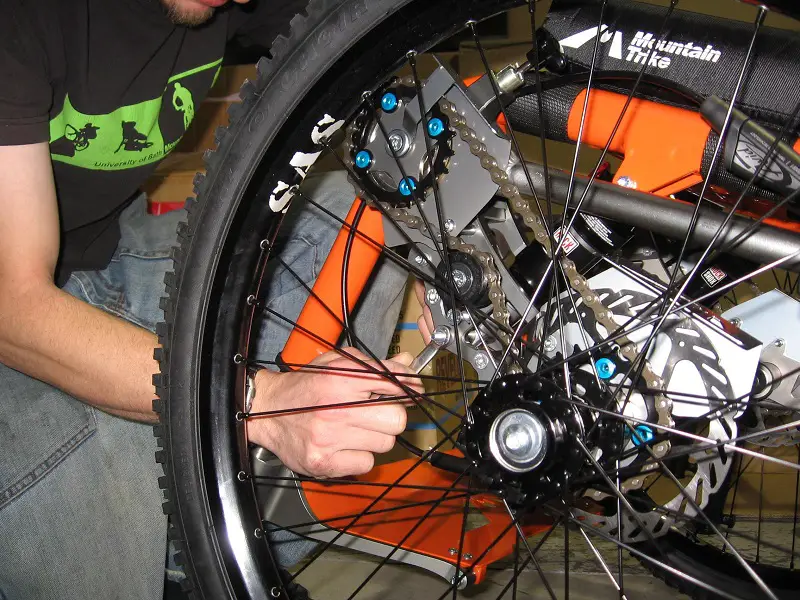 Guy explains the detail of the service his bike shop has provided. "The staff carry out a full service as they would for a normal bike, including lubrication and cleaning of parts. More recently the biggest challenge was the brakes, because two of the brake callipers are operated by one lever, which had worn out and leaked the brake fluid.
They sourced an alternative brake lever mechanism, installed it and bled the system. The small wheel at the back had a puncture. They knew from experience how hard it is to pump up such small wheels, so they installed an inner tube with an angled valve to make pumping easier."
If you have a Mountain Trike and find that your local bike shop needs advice or any parts, then we at Mountain Trike are more than happy to chat with them, send instruction sheets and order parts on their behalf – it is something they often do for customers in the UK and even overseas. Simply contact us by emailing tim@mountaintrike.co.uk or calling 01270 842616.
Tip 4: Use a checklist to maintain your wheelchair
The checklist below is a good reference for general wheelchair care and maintenance:
Check the tyres (pressure and general condition) on a monthly basis.
Check that the brakes are working correctly and are properly tuned, paying special attention to the fittings.
Every three to four months check that all the screws are secure. Check all of the joints that are important for user safety are self-locking with special bolts.
Clean the frame of the chair using a mild detergent. The backrest and cushion should only be cleaned using soap and water. If in doubt, check the manufacturer's guidelines.
For repairs, only use original parts or those recommended by your wheelchair's manufacturer.
If the seat gets wet, try to dry it after use and do not store it while still wet. The wheelchair should also be cleaned if coming into contact with sand or salt as both can damage the wheel bearings.
Apply a small amount of oil onto the axes to allow for quick disassembly. This should be done according to use, although it is usually advisable to do so every two months. Moving parts should also be lubricated if the chair becomes difficult to move or if it begins to creak.
If your wheelchair has a battery then charge it overnight before use. At Mountain Trike, we recommend that for our eTrike eKit you remove the battery during the cold/winter months and keep it indoors in the warm. We also suggest charging the battery indoors – usually overnight.
If you plan to store your wheelchair for a long period of time, try to cover it and leave it in a dry place that is protected from the sun and at room temperature. Before using it again, you should undertake a complete wheelchair maintenance check.
Have your chair professionally serviced once a year.
Watch Tim Morgan, managing director and inventor of the Mountain Trike all-terrain wheelchair products, as he gives a cleaning tips video tutorial.
For further maintenance and how to guides and videos, visit and search the Mountain Trike Discover page.
It includes a whole host of information on replacing and cleaning specific parts of your wheelchair, as well as riding tips for when travelling over different terrains and different weathers.
---
---
---