10 years of growth and development for UK all terrain wheelchair mobility company
26th August 2021
General News MT Adventures Reviews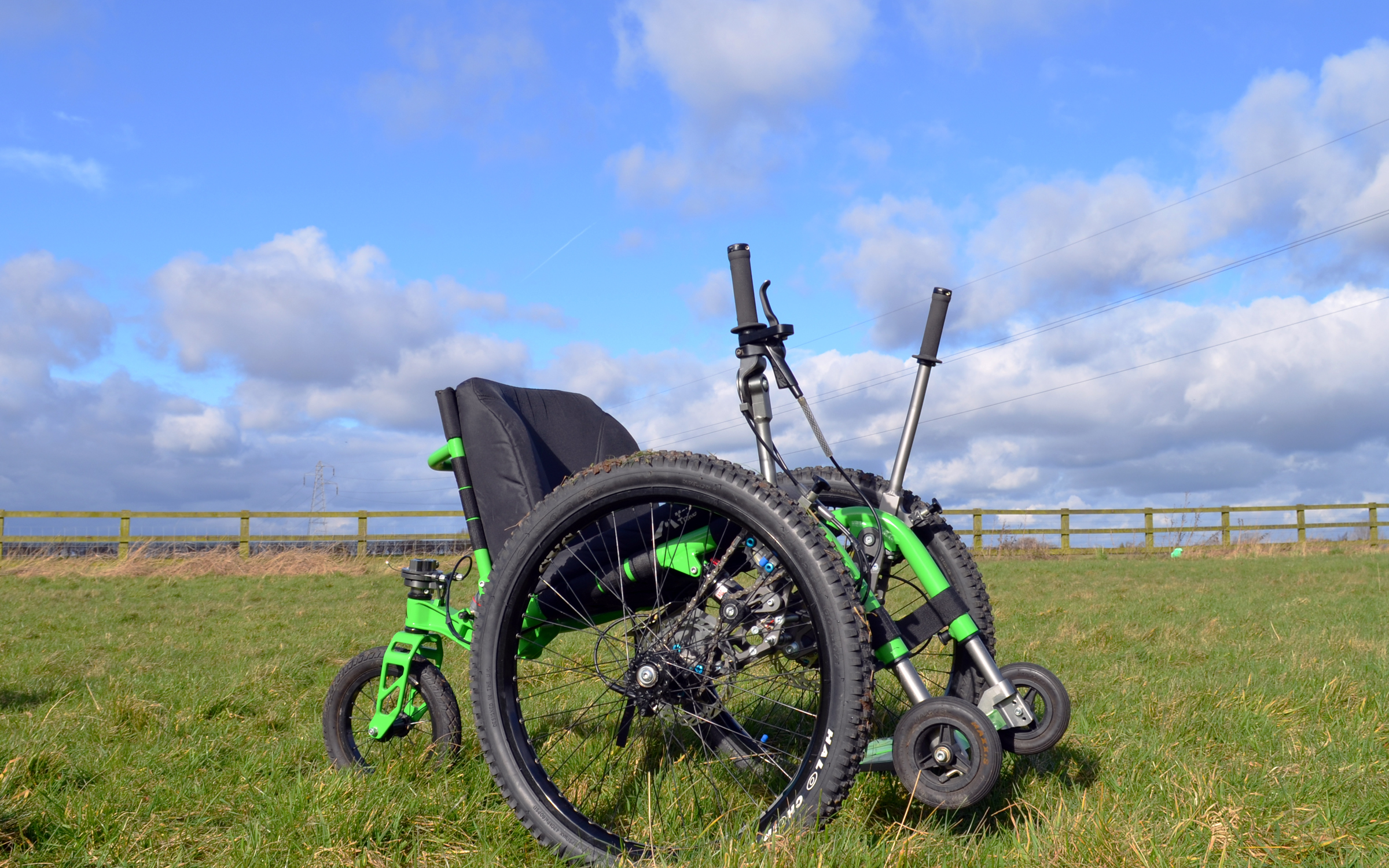 The Mountain Trike Company, an innovative off-road wheelchair company based in Nantwich, Cheshire in the UK celebrates 10 years of trading having gone from strength to strength.
Following 4 years of design, research, prototyping and testing, in August 2011 the Mountain Trike Company delivered the first production Mountain Trikes to customers in the UK.
Tim Morgan Inventor and Managing Director at Mountain Trike, received a first class degree in Masters of Engineering at the University of Bath, where during his final year made the first Mountain Trike prototype - Tim's love of Mountain Biking inspired him to design a wheelchair that would be off road capable to enable everyone to enjoy the great outdoors.
Using his skills as a design engineer Tim created the practical, off-road capable and award winning Mountain Trike all terrain wheelchair which uses many of the tried and tested components that can be found on mountain bikes. Its unique lever drive system allows the user to independently propel, steer and apply the hydraulic brakes whilst maintaining clean dry hands in all weathers.

Trike 001 went to Rick in London who used it for taking part in outdoor events, world travel and other adventures. Rick still rides his Mountain Trike regularly now having moved out of the city into the countryside in Southern England.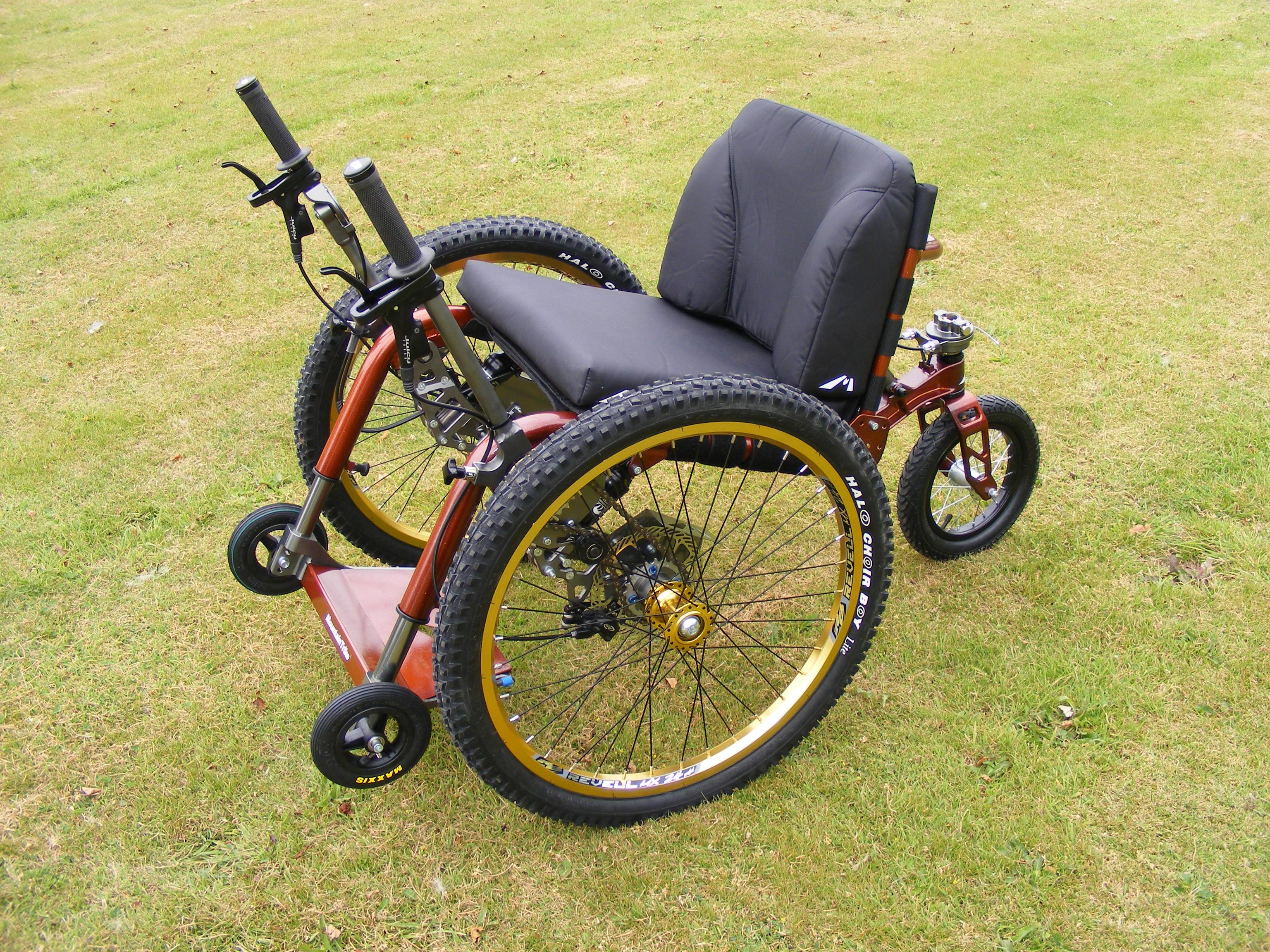 Trike 002 went to Richard in Yorkshire who has completed 1000's of miles going on rides with his family and friends. He went onto update his Trike in 2019 when the Mountain Trike company added further product ranges to their portfolio.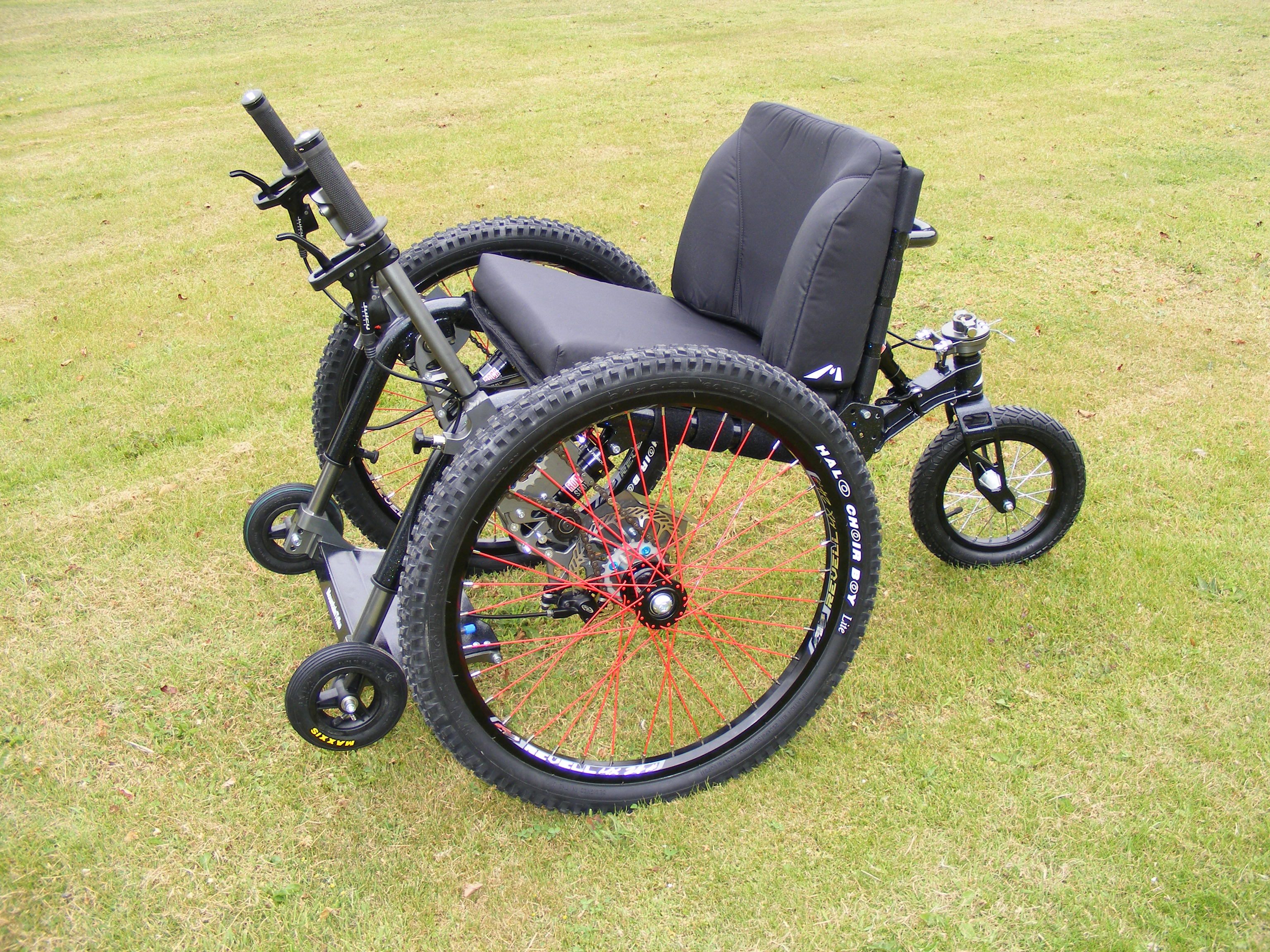 The company trades online and builds all Trikes at their manufacturing site in Nantwich. They stay true to their brand values offering customers a try before you buy hire scheme, face to face demonstrations and various adaptations are available to fit the customer needs. All Trikes are modular so can be adapted should the customers circumstances change, making it a far more affordable outdoor wheelchair option.

One of the main areas for growth has come through an increase in worldwide distributors, Mountain Trike work with organisations and individuals who have a similar ethic. Mountain Trike products are now sold through distributors in the US, Canada, Germany, Italy, Japan, New Zealand to name a few. To help with UK demand they have also added further distributors and experience centres across the UK.
Since launch the Mountain Trike products have won several awards for Innovation and Best in Show. In 2013 Tim Morgan was awarded the Silver Medal Award for Outstanding Contribution to British Engineering by the Royal Academy of Engineering for his work on the Mountain Trike and the outstanding commercial success.
Success has also come in the form of TV appearances which include several appearances on Countryfile and other outdoor interest TV shows highlighting the issues around accessibility and how the Trike can help enhance access for wheelchair users. Dragons' Den also came calling and although an offer was made, Tim declined.
In 2015 two further products where added to the all terrain wheelchair range - the MT Evo designed for users with limited hand function and the MT Push which was initially designed following conversations with the National Trust when they were looking for off-road capable attendant style wheelchairs for visitors to their sites. The MT Push proves to be extremely popular with families and Mountain Trike continue to have an excellent relationship with the National Trust and other B2B organisations who see the value of having their own fleet of Mountain Trike wheelchairs at their various sites.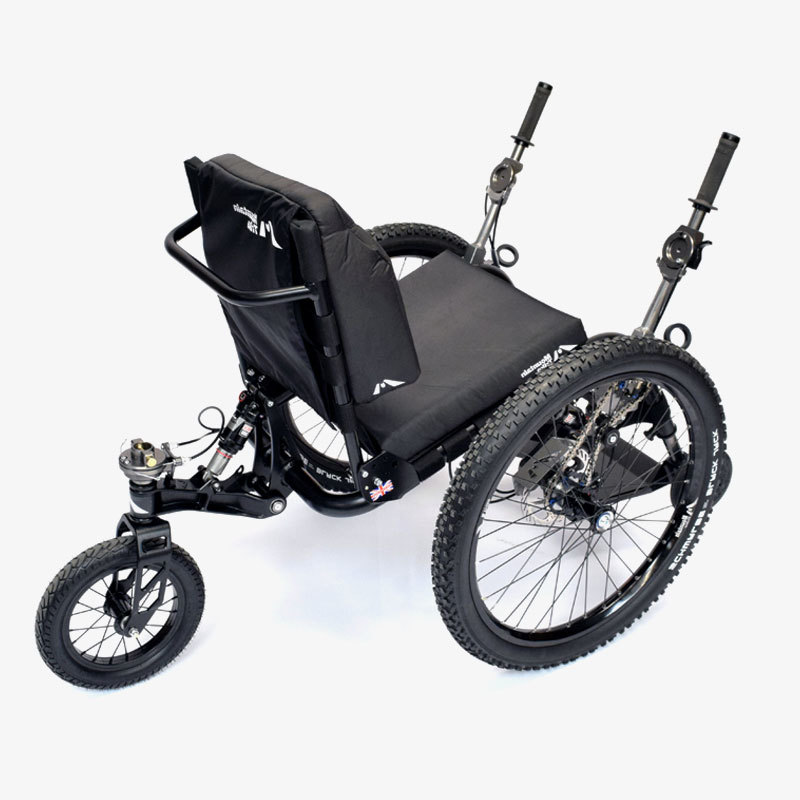 The Mountain Trike team is a small, but passionate team with Tim at the helm managing all the day to day aspects of running a business as well as still keeping his hand in customer builds and his passion for product design developments. Sales Manager, Roger travels the country providing customer demos, attending events and building the companies B2B relationships. Seb joined the assembly team in 2017 and due to an increase in sales, despite a worldwide pandemic, Ellis was recruited into the assembly team in early 2021. Lucy & Jayne manage the customer journey and the marketing and media side of things. And Marie films and edits the marketing videos and graphics as well as supporting the production assembly team.
Another backbone of the company are the many customer ambassadors who are on hand to provide support to other prospective customers and generally spread the positive message whilst out and about on their Triking adventures!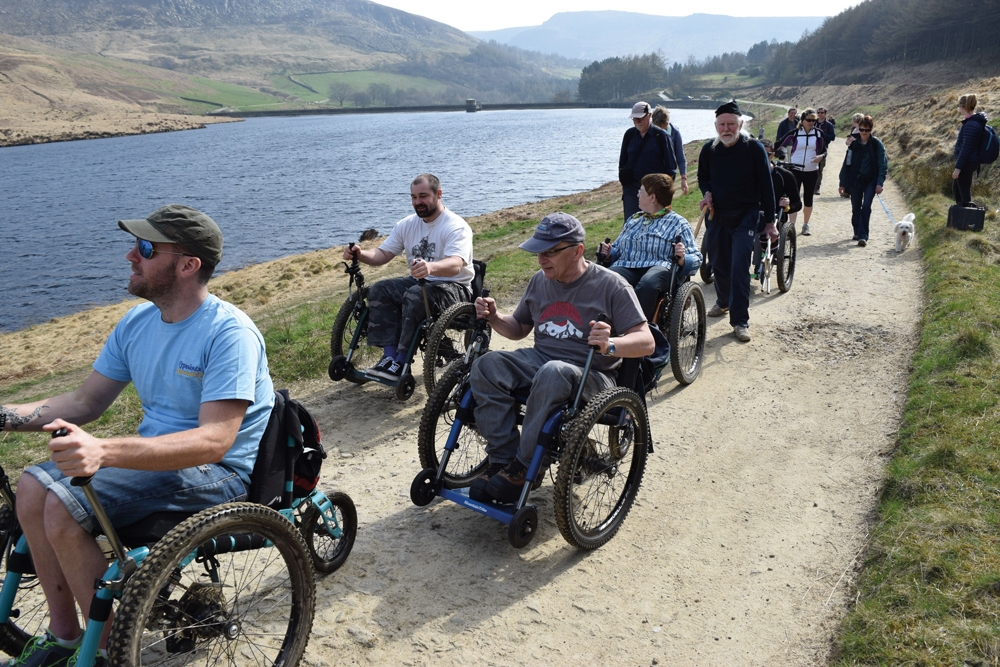 In 2019 the company launched the eTrike which has been a real game-changer. Yet again another unique and innovative all terrain wheelchair product which has the added benefit of power assist - the eTrike can be ridden manually, powered or hybrid - offering the best of both worlds. An eKit can also be fitted to existing customer Mountain Trikes.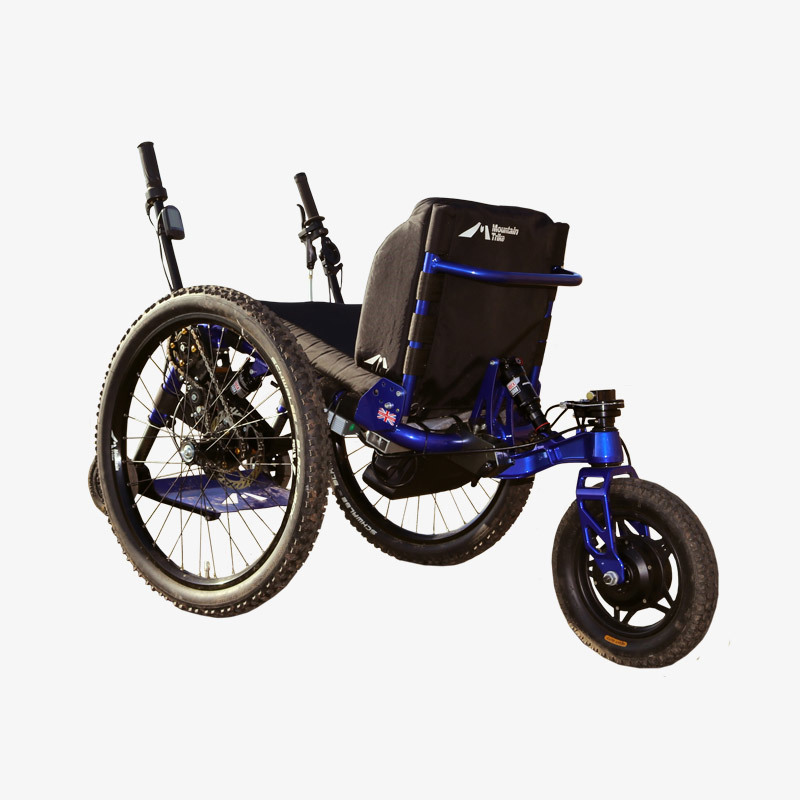 As uncertainty hit the world in 2020 Mountain Trike saw enquires and sales go through the roof - peoples hunger for the outdoors and the company already successfully trading online certainly supported Mountain Trikes growth and the last 18 months have seen some of their biggest monthly sales. However, as 2021 has highlighted for many companies demand for products has seen a knock on effect with part availability and delivery issues so the company find themselves with a new challenge - managing production schedules and lengthily build times which is frustrating for them and the end user.

Looking forward and as demand continues to grow so will the assembly team. Tim's passion for design and product development continues and following on from customer feedback a powered version of the MT Push will soon to be available. A Kids Adaptation Kit which will be compatible with all products is being finalised which will make the purchasing process simpler for parents and offer an excellent longterm purchase as the child grows. Prototyping for exciting new product launches are well underway and will be revealed in the coming months which will compliment the already varied all terrain product range, giving a wider choice for wheelchair users of all abilities to get out and enjoy the great outdoors with friends and family.
Talking about his time over the last 10 years, Tim Morgan says, "It has been such a roller coaster of a journey for me, from seeing my design idea come to life, to some steep learning curves in the business world, which has helped mould and develop the company to what is is today. It is a dream come true and I am incredibly proud. Knowing that the first Trikes are still going strong 10 years later goes to show how robust and good value the Mountain Trike is.
The company has come along way since these first production Trikes - we've developed into a successful business with global sales, expanded the range and the team, refined the product further, enjoyed many amazing reviews and TV experiences and most of all enabled so many people of all abilities to enjoy the great outdoors.
Without our customers the company wouldn't be what it is - many of our first customers have become good friends and ambassadors for our products. I love nothing more than hearing and reading about our customer journeys and outdoor adventures. I'm excited about what the future holds for Mountain Trike and am looking forward to growing our product range and hope for more continued success!"
To learn more about the Mountain Trike Company and their all terrain wheelchair product range, head to the website: https://www.mountaintrike.com/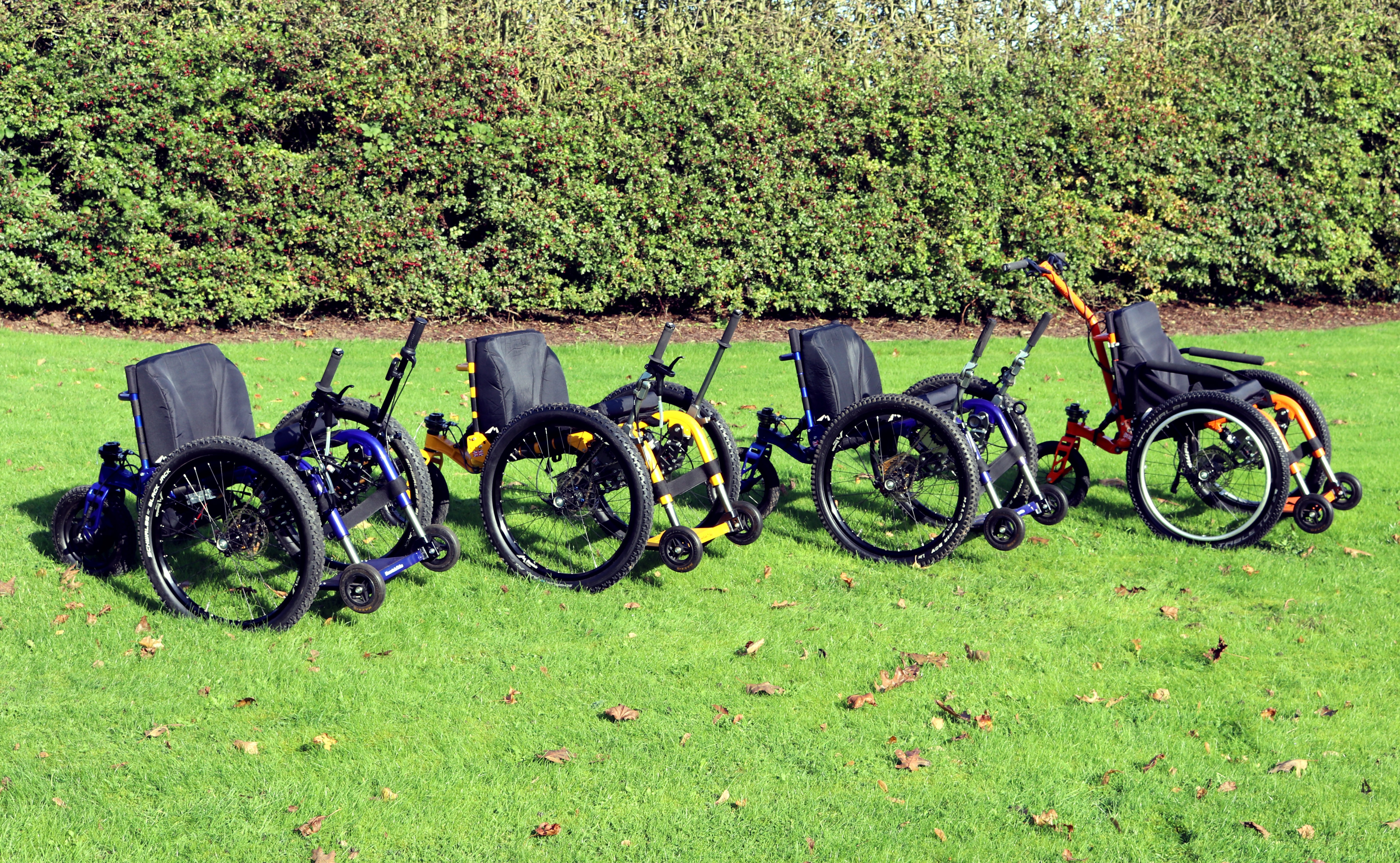 ---
---
---